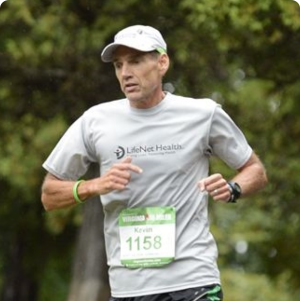 In Memory of Korinne Ashley Shroyer
Since the early 1990s, Kevin Shroyer of Lynchburg, VA has participated in hundreds of races of various distances. He has completed over twenty marathons and many half marathons and even several triathlons. In November 2014, Kevin achieved a long-time goal of successfully qualifying for the Boston Marathon and in September 2015 he received an invitation from the Boston Athletic Association to run in the 2016 race. When Kevin runs in the 2016 Boston Marathon he will be doing so while wearing running attire bearing multiple logos related to organ and tissue donation.
Kevin's life took an unexpected turn when he experienced the tragic death and loss of his fourteen year old daughter, Korinne Ashley Shroyer, on May 26, 2002. Kevin, along with his wife, Kristie, had decided to be organ donors years before and elected the same for their daughter upon her death. Korinne was Kevin's oldest daughter and a constant companion on trips to ballparks, Civil War battlefields, and on his training runs. Kevin experienced debilitating grief for months after Korinne's death. Kevin stopped running and did not know if he would ever feel like running again.
After almost a year of not running, and after much soul-searching thought and prayer, Kevin decided to begin running again. However, now the focus of his running would be on honoring the memory of his late daughter, while also promoting the cause of organ and tissue donation. In October 2003, Kevin had the opportunity to meet one of Korinne's organ recipients, a man from Georgia named Len Geiger. Len had received both of Korinne's lungs. Len traveled to Charlottesville, VA to meet the Shroyer family. During that initial meeting, it was apparent that Kevin and Len had much in common. Besides being almost the same age, they both had a life-long commitment to fitness and enjoyed many of the same healthy activities, including running and cycling.
Len suffered from the genetic lung disease known as Alpha-1. Alpha-1 was the reason Len needed new lungs in order to live. During that initial meeting, Len and Kevin decided to run an 8K race together in November, 2003 in Richmond, VA to promote organ donation. The public support Len and Kevin received, as well as the media attention, was overwhelming and prompted the two men to continue on with their efforts to promote organ and tissue donation, as well as Alpha-1 awareness, throughout the country. Together, they have completed a marathon, half marathon, triathlon, and several races of lesser distances. Their story has been featured in numerous magazines, books, newspaper articles, and on a variety of television programs. They have been invited to be guest speakers and presenters at numerous functions dealing with organ donation and lung disease. Due to having had his hips replaced on two occasions as the result of steroid treatment damage, Len is under doctor's orders to cease running, lest he risk further damage to his hip joints. While their days of running together appear to be over, Kevin continues running races and promoting the cause of organ and tissue donation as frequently as possible, often wearing running attire adorned with organ donation logos and information.
In 2008, Kevin created and began directing the Point of Honor 5K. Every year since its inception, the Point of Honor 5K has been given the distinction of being in the Lynchburg Road Runners Club Race Series, usually being the first race in the Race Series. It is in the spirit of honoring his late daughter's memory, while at the same time continuing to support the cause of organ and tissue donation, that Kevin remains dedicated to being the Race Director for the Point of Honor 5K. To date, proceeds from the Point of Honor 5K has resulted in ten of thousands of dollars being donated to the LifeNet Health Foundation.