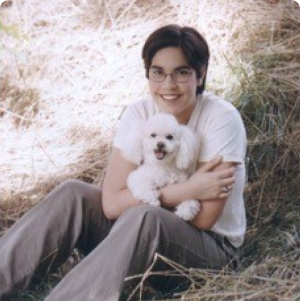 In memory of Maria Susanne Diaz
Maria died in a single car accident on her way back to her second year at University of Virginia. Her parents were following and happened to stop and help out at "an accident". Both Maria and the passenger with her died that afternoon at the accident site.
Maria's favorite quote is "A smile is the light in a window that tells you there is a sharing caring person inside". Maria was always laughing and there for anyone in need. Her legacy is that she was a Tissue Donor, we believe that "Restoring Health and Giving Hope" to 67 lucky recipients of Maria's gifts of bone, tendons, ligaments, heart valves, pericardium, fascia, veins, arteries and corneas was the plan and is quite a legacy for a 19.8 year old to leave behind.
Maria was a 2000 graduate of Tallwood High School in Virginia Beach, where she was identified as academically and musically gifted. She was captain of both the field hockey and soccer teams as well as section leader in the symphonic band (French horn). She also was selected into the VA All state band/orchestra for three years. Maria continued her music at University of Virginia where she was in the brass and wind ensembles. Throughout her middle and high school years, she was also active at church, as a lector, usher, and helped me with Pastoral Care Ministry, visiting the sick, dying and shut-ins. She started a similar ministry at University of Virginia visiting assisted living centers and nursing homes.
Thanks to Maria's gifts Al and Suzie Diaz have become public educators for LifeNet Health, sharing her story and helping to dispel the myths and misconceptions of organ, tissue, and eye donations throughout Virginia. They have spoken to thousands of students about the gift of organ and tissue donation.