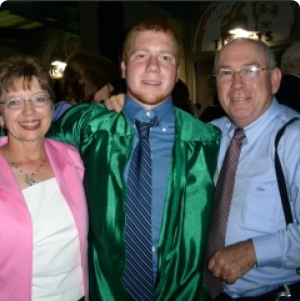 In Memory of Paul Charles Harris
Paul loved adventure, whether it was climbing trees, climbing walls, playing soccer, body boarding, scuba diving, jet skiing, attending YMCA camp, going to Boy Scout High Adventure camps, or fishing. He loved to be at the ocean more than anywhere else on earth. Soccer was his game and he played from the time he was 5 years old until the time he passed away. He truly lived life to its fullest. Paul loved his family, loved God, and loved his friends. He will be remembered most of all for being a loyal friend to many people and a good faithful son, brother, grandson, nephew, cousin, and uncle.
On August 13th, Paul received his Eagle Scout Award along with one of his best friends, a "brother", Matt Faircloth. In August Paul started college at Tidewater Community College. He had a part time job and was growing up. He had good friends, strong family, and was an uncle to three little ones, Morgan, Ella, and Gracelyn. Life was good and Paul was happy.
On September 13, 2006, Paul was in a one-car accident on a rainy night on a dangerous road, close to our home. He slid off the road into a deep ditch and was taken to Sentara Norfolk General Hospital by the Nightingale Helicopter rescue team. He lived a week, a week of grace and hope for our family and his friends. On September 20, 2006, Paul passed into the arms of Jesus.
Ciny and Chuck are thankful that Paul chose to be an organ, eye, and tissue donor. Because Paul chose to give, 69 people in 16 states as far away as Seattle Children's Hospital received his gifts of life. Two women in their 50's received his kidneys, and a 70 year old gentleman received his liver. A woman in her 30's and a man in his 40's received his corneas. His gifts of tissue have helped many other people. They feel blessed and honored that he made the decision to donate. They know that he never thought he would die at such an early age, but he knew he wanted to donate and checked the box.
Paul lives on in their hearts, in the laughter of his nieces and nephews, and in the love they share with friends and our family. Cindy and Chuck thank God for the gift of Paul's life. They miss him every minute of every day. They miss his big crooked smile and his way of saying, "Yo" whenever he walked in the door.
Since Paul's death, Cindy and Chuck Harris have become involved in the world of donation, serving as volunteer ambassadors for LifeNet Health and volunteering for the Lions Medical Eye Bank. Cindy speaks whenever and wherever she is asked, sharing Paul's story of life and becoming a donor and how he helped others in his death. They have planned and spoken at Donor Sabbath services in churches. They believe that donation gives "hope", not only for our family, but also for those who have received the gifts of life from our son.
Cindy and Chuck hold a fundraiser in Paul's memory at his high school every spring and award scholarships to students using the money from the fundraiser. They have a memorial endowment at the YMCA Camp Silver Beach; sending children to camp each year who wouldn't otherwise have the opportunity go to a summer camp. They honor his memory in whatever way we can, sharing his story of life and donation.
The entry to the LifeNet Health campus has a wall where these words are carved, "In Honor of those who give willingly and unselfishly so that others may live." Those words say it all!
"Words are kind, they help ease the mind I miss my old friend And though you gotta go, we'll keep a piece of your soul."
- Jack Johnson
"Live a good life and in the end, it's not the years in the life, but the life in the years."
- Abraham Lincoln