Parker Lang|Tissue Donor
Parker Lang
(July 20, 1997—March 9, 2016)
"Parker, you're my hero, and I am proud to be your mom." -Vicki Moore, Parker's mother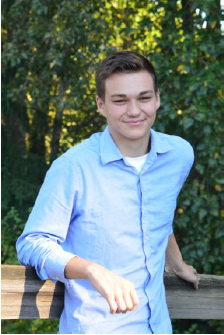 Parker was known for his warm smile, contagious laugh and friendly personality that drew people to him. He loved spending time with his family, making goofy videos with his best friend and playing video games.
Parker was determined and hard-working. When he struggled academically, he took it upon himself to join the Washington Youth Academy (WYA) on his 16th birthday. The WYA is a six-month semi-residential program that helps youth who have or are considering dropping out of high school improve their educational skills and professional potential. Though his mother, Vicki, didn't want him to join at the time, she says he returned from the program with a new level of maturity and self-confidence.
After graduating high school, Parker enrolled in college courses and began working at Mug Bay in the Bothell/Mill Creek area. One rainy night, while walking home from work along a stretch of road with no sidewalks and poor lighting, a car struck Parker. He passed away from a traumatic brain injury.
Parker, a registered donor, had talked with Vicki about his desire to donate. She remembers being with him at the DMV when he was asked whether he wanted to be a donor, to which he responded, "Yes, without a doubt."
Parker has helped enhance 26 lives through donation, including the donation of bone, tendons, ligaments and a vein. The Washington Youth Academy honored him with a community coin in recognition of his act of generosity to the community through donation.