How to Make a Quilt Square
"How do I get started?" is a question that many donor family members ask.
First, think about what you may want to share about your loved one.
Inspiration can come from…
your loved one's hobbies, sports,
passions
a favorite photo or memory
an article of clothing or t shirt
a drawing or poem
a page from the In Celebration and Remembrance book, your Tribute Album, scrapbook or photo album
a spiritual or religious book or passage
a special relationship with a child, grandchild, spouse, parent, or other relative
anywhere else…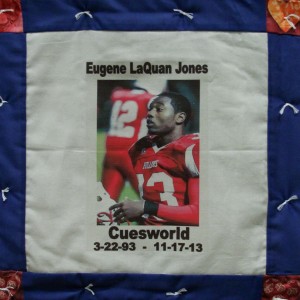 Some techniques that others have chosen…
iron-on photo transfer onto the quilt square fabric
permanent marker, laundry marking pen, fabric paint directly on fabric
hand or machine embroidery or appliqué
a favorite fabric on top of the quilt square
badges, commendations, or other mementos securely attached to the square***
ask a friend to help you create the square or any combination of the above!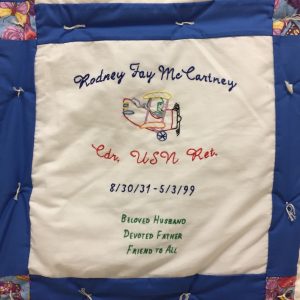 Now that you are ready to work…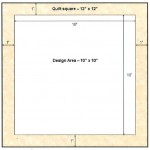 You have received a 12' x 12" square of unbleached muslin fabric as your work surface.Quilt Square graphic
Plan to use the center portion of the square, up to within one inch of each edge. That leaves a 10" x 10" design area with a one inch border on each side. Your square will be joined to eight others, for a total of nine squares to complete each quilt.

Resources
Local office supply stores can help you with an iron-on photo transfer. Your image will need to be 'flipped' or 'mirror imaged' to show correctly when ironed on the square. If you need help resizing the image and flipping it, the staff should be able to help with that.
Permanent markers, fabric markers and fabric paints are widely available at local craft and big box stores – or maybe even in your own home or laundry room!
Hand embroidery and appliqué can be labors of love, but if that isn't your interest, a local shop that does machine embroidery can help with your design. You may find an embroidery shop in a mall, or perhaps at a uniform shop or dry cleaner.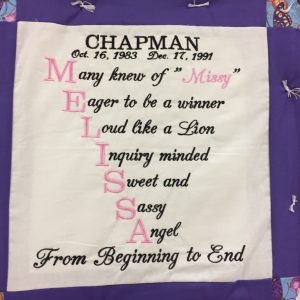 *** If you want to use a favorite fabric, badges, mementos, or a portion of a favorite piece of clothing, be sure to stitch securely to the square!! Adhesives and glue deteriorate over time.

If you are interested in creating a quilt square, the following short video may help answer some questions about how to get started.
I've finished, now what do I do?
Be sure you have secured all items to the square and have left a border for your square to be joined to the others.
You may want to include a written description telling how your loved one influenced the design so visitors can read the stories of donors and their families in our Quilts of Love scrapbook.
Please mail completed square, authorization form and description, if included, to: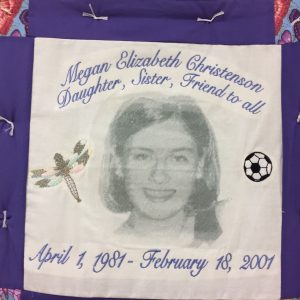 LifeNet Health Donor Family Services
1864 Concert Drive
Virginia Beach, VA 23453
ATTN: Gina Cassidy


To request a quilt square, or if you have any questions, please contact:
Gina Cassidy at (757) 609-4613 or 1-800-847-7831 ext. 4613.